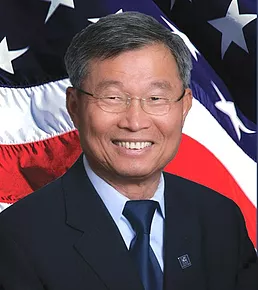 Barry Chang
Senior Advisor
Barry graduated from Taipei Institute of Technology and started off working on the first freeway construction in Taiwan. He came to the United State for advance study in Structural Engineering in 1977 and finished his Master of Science degree and received a job in Cambridge, Massachusetts.
After working as a structural engineer for several nuclear power plants in the United States for couple years, Barry transitioned his career to real estate sales. With success in real estate business, Barry felt an urgent need to give back to the community. He and his wife have been helping their children's school. In 1995, he ran for Cupertino School Board of Trustee and won. He got re-elected in 1999 with the highest number of votes counted. With high concerns for environmental issue in Cupertino, CA, Barry decided to run for Cupertino City Council. In November 2009, he was elected to Cupertino City Council. He had brought the pollution issue from the nearby Lehigh Southwest Cement Plant to the EPA attention resulting a more clean air and clean water for the residents in Silicon Valley. Barry was re-elected in 2004 as the number one vote getter.
Barry's continued to work with the largest employer also the biggest company in the world, Apple Inc., Barry has a very good working relationship with Apple. When Barry approved Apple Park project, he also negotiated very smoothly with Apple. The result is: Apple happily agreed to pay 30% higher sales tax rate to City of Cupertino. Later, Apple also announced in writing agreeing to work with Cupertino to solve the traffic congestion problem. Barry also cares about the climate change issue. Since he is diligent on the environmental issues, he gains respect and support from the fellow council members from neighboring towns and cities like: Atherton, Woodside, Portola Valley, Los Altos Hills, Los Altos, Mountain View, etc.
He hosted the G-50 Smart City Summit event in 2018. Many cities council members were happy to join with companies such as Google, Nvidia, Palo Alto Networks etc. The keynote speaker was Superloop CEO. When Barry was the mayor in 2016, he visited more than fifty cities in China and four cities in Taiwan. He is very proud of setting up friendship cities with more than thirty big cities like Beijing, Shanghai, Guangzhou and Shenzhen in China and Taipei, Taichung and Yilan in Taiwan. In that process, he establish friendship with Mayor of Taipei, Mr. Ke, Wen Zhe and then Mayor of Taichung, current Minister of Transportation, Mr. Lin, Jialong. Working with cities around the world to help solve the climate change issue and many other problems facing the world.